Spacing Hugh
Given the proclivities of our departed friend Hugh Daniel it has been decided that some portion of him definitely needs to leave the planet.
Arrangements have been made with Celestis, Inc. http://www.celestis.com to book a memorial flight for Hugh.
Our goal is to enroll Hugh as Voyager Service participant. He will be joining Gene and Majel Roddenberry of Star Trek fame along with many others.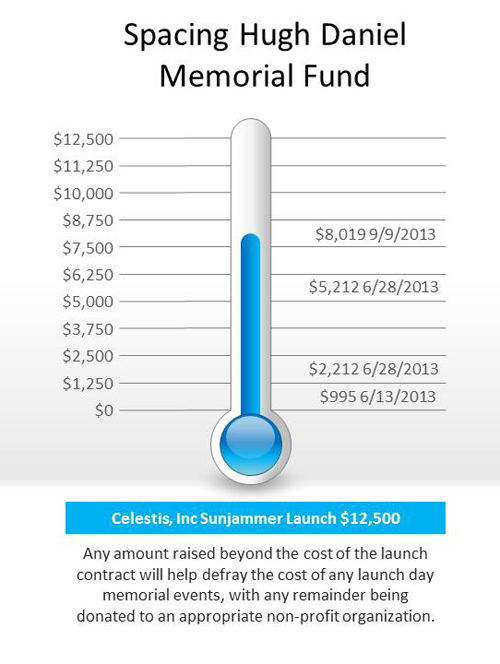 The Voyager Service launches your loved one on a voyage into deep space, leaving the Earth-Moon system on a permanent celestial journey.
The Voyager Service is expected to launch its first mission in Q4 2014, aboard the Sunjammer spacecraft being developed by a team that includes Space Services, Inc. Click here for more information.
Voyager missions truly offer an opportunity to be at one with the cosmos, on a mission of exploration and discovery.
If you would like to contribute to seeing this event come to pass please be sure and visit the guestbook page of this website.
If you have requests or idea for honoring Hugh's life, please contact Lesli Daniel. Should you have an interest in showing your respects through flowers, the Family invites you to support his space travel in lieu or a donation to a non-profit of your choice.